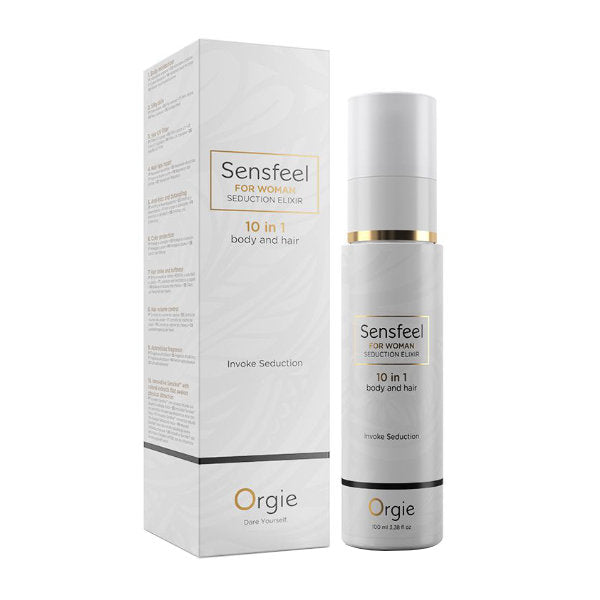 Orgie Sensfeel for Woman Seduction Elixir
Sensfeel for Woman Seduction Elixir 10 in 1 for body and hair
The immediate success of the pheromone perfume Sensfeel for Woman EDT and suggestions inspired by our best-selling The Secret 10 in 1 Seduction Elixir made it happen!

The active ingredient – Sensfeel for Her
Sexual pheromone is a set of odourless and imperceptible substances produced by the organism that, when released, promotes the attraction chemistry between individuals of the same species. In humans, the female sexual pheromone is copulin. Sensfeel for Her is a natural-based active ingredient that can enhance testosterone production in men through the interaction of two of its components – White Jasmine (Jasminum officinale) and short-chain fatty acids (SCFAs) derived from Carob (Ceratonia siliqua) – which results in mimic of the copulin.

Fragrance
Wood base note, floral mid-note, fruity top note. Extasiating aphrodisiac fragrance that balances its fruity and floral notes with its delicate wood base, matching with Sensfeel for Woman EDT perfume, blooming the seduction that all women naturally own.

The 10 in 1 body and hair function :

Body moisturizer.
Silky skin.
Hair UV filter.
Hair tips repair.
Anti-frizz and detangling.
Color protection.
Hair shine and softness.
Hair volume control.
Aphrodisiac fragrance.
Awakens physical attraction.
How to use
Shake well before using. Apply to the skin with gentle massage for better absorption. On the hair, apply a small amount on damp or dry hair. Do not rinse. The fragrance effect of Sensfeel for Woman Seduction Elixir 10 in 1 reaches its maximum response 30 minutes after application and lasts for a few hours. Reapply as desired. 
Pheromone body and hair spray with 10 in 1 effect.
Volume : 100 ml.
Made in Portugal.
---
More from this collection